Edwardian Fernie was intrigued to find out that Janet Walker Berton was born and lived in Fernie until she was fifteen. Who was Janet? She was a writer, journalist, historian, community activist and mother to five children, but despite these many accomplishments she is best known as the wife of eminent Canadian historian Pierre Berton.
Edwardian Fernie is looking for more information about Janet Walker and the time her family spent in Fernie. If you know anything about this fascinating woman and her family and their home, their friends, their time in Fernie please share it with Edwardian Fernie and we will share it with our readers.
Here's somethings we do know about Janet Walker. She was born June 29, 1920 and she resided and went to school in Fernie, it is believed, until she was fifteen. Her family then appears to have moved to Haney, B.C. where she continued her education.  Edwardian Fernie would like to acknowledge that the bulk, if not the entirety of the information it has gleaned about Janet Walker is from Brian McKillop's, "Pierre Berton: A Biography".
McKillop identifies that Janet Walker and her family moved to Haney in the Thirties when she was in grade eleven and that there her father ran a general store of sorts at which fine clothes were also sold. Apparently Janet and her brother worked in the store and helped deliver groceries. According to McKillop she was "a spirited and buxom bundle of energy with an enthusiasm that radiated in all directions, at ease with others and concerned for them."  After completing her grade thirteen (then the senior matriculation) at MacLean High School she entered second year at the University of British Columbia in autumn of 1938. From here I let McKillop take over because his observations about Walker and Berton are charming:
"Janet Walker had been almost the first girl he had met at UBC. The moment he stepped into the Pub offices in September 1939, there she was at a big typewriter near the entrance, a pretty girl in a yellow sweater, and she gave him a welcoming smile. 'That girl is in love with me,' he recalled of this moment twenty years later, 'and I am in love with her.' But this was the perspective of a man married to a woman who had once owned a yellow sweater. The truth is that Cupid's bow took rather longer to place its arrows than this little Valentine suggests. Pierre recognized Janet Walker's name from reading the UBC student newspaper back at Victoria College, but he knew little else about her. For her part, this boy named Pierre Berton seemed at first far too opinionated. Not only that; he wanted to do everything at once, and right now."
Janet Walker's message as president of the student council in the year she graduated from high school had been, in part: "Don't go around criticizing what others do – go ahead yourself and help make conditions better." So when she later joined the Ubyssey, she was not entirely impressed by the lanky redheaded student journalist with the French named, the loud voice, and the strong views. Like other students at UBC that fall, she initially had mixed feelings about Pierre Berton. "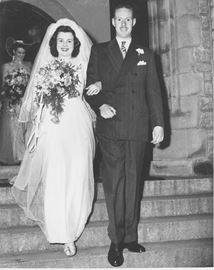 Despite those mixed feelings Janet Walker would eventually go on to marry Pierre Berton. She lived until November 6, 2015, for more about her marriage and the many things she did including co-authoring a cook book, Pierre and Janet Berton's Canadian Food Guide, find McKillop's biography of Berton and have a good read! Edwardian Fernie wished that Janet Walker Berton was still around to talk about her early memories of Fernie, but maybe you can help!  Again if you have any information about Janet Walker Berton in Fernie, please let Edwardian Fernie know.